Welcome to Readers Write to Know! I asked you, my readers, what questions they would ask their favorite authors if given the chance. This week, I am so pleased to introduce you to Rebecca DeMarino. Like me, she was a military brat married to a military husband, so I totally identify with her longing for a "home". Her debut novel, A Place in His Heart, is inspired by a true story! Read on to learn more about it. Rebecca is also giving away a copy of A Place in His Heart to one lucky winner — so be sure to check out the Rafflecopter below for all of the different ways you can enter!
Tell us a little bit about yourself: I've lived in ten states (sometimes more than once) and one U.S. territory and have never found one that I didn't like. Having grown up with a father who was a career Navy pilot, I credit my mother with my adaptability. She could always find the good in every place we lived. I did long for a place to call home, so the fact that the man I married also made the military a career is a bit perplexing, but life has never been dull!
Tell us about your current release: My debut novel, A Place in His Heart, is a historical romance inspired by the lives of my ninth great-grandparents, Barnabas and  Mary Horton. It is book one of The Southold Chronicles and is set in the 17th century.
Here is the blurb: Anglican Mary Langton longs to marry for love. Left at the altar and disgraced in her small hamlet, she is being pressured to marry the eligible son of the London milliner. Puritan Barnabas Horton still grieves the loss of his beloved wife, but he knows his two young sons need a mother. With tender hearts, Mary and Barnabas take a leap of faith and wed. But when Barnabas's secret plans to move his family to the New World to escape persecution come to light, Mary's world is upended. How could she possibly leave her Papa and her dear sister? And can she ever reach the secret places of her husband's heart?
If you knew ahead of time your book would benefit only one person on their spiritual journey, would you still write it? Most definitely, and for many reasons. I believe God is in control. I'm not the one who gets to decide how many readers pick up my book, how many hearts are touched, or how many, if any, lives are changed. But I do believe God called me to write this book. I think he put a yearning in my heart to give Mary a voice. And while I've prayed I can touch women who might struggle in their relationships, who might have suffered loss through death or the pain of infertility, I might be the one person whose spiritual journey has benefited.
What do you think is lacking in Christian Fiction? Actually, I think we are seeing some exciting times for Christian Fiction. No matter what the genre, the authors being published today in the CBA are writing stories that are gripping, engaging and pure entertainment from a Christian world view. And it seems even the secular side of the entertainment industry is turning toward more wholesome offerings, but they have a ways to catch up!
What is your personal, most effective way to get past writer's block? Getting outside and exercising is a big boost for me. Taking in the beauty of the outdoors and getting my heart rate up seems to work. Some of my best thoughts occur while walking in the garden, hiking up a trail or going for a jog.
 Who were some of your favorite authors as a child? Treasure Island by RL Stevenson, Anne of Green Gables by Lucy Maud Montgomery, The Hardy Boys and Nancy Drew, Rebecca of Sunnybrook Farm by Kate Douglas Stevenson, and because I was horse "crazy", The Black Stallion series by Walter Farley.
 What is the inspiration for your writing? I thought for many years that I would write a novel, often entertaining the idea of writing suspense, because I love to read it and have an active imagination about all of the horrible things that can happen in life. But, it wasn't until I took my mother to Long Island in 1999, to visit a lighthouse named after our ancestor Barnabas Horton that the story of my ninth great-grandmother tugged at my heart. I began writing it in 2008 because there was no way I could not.
 Rebecca DeMarino lives in the Pacific N.W. and enjoys hiking, baking, genealogy and gardening. Her debut novel, A Place in His Heart, is a historical romance inspired by her ninth great-grandparents, Barnabas and Mary Horton, and is book one of The Southold Chronicles. It is available now from Revell. For more information please visit her at www.RebeccaDeMarino.com or https://www.facebook.com/AuthorRebeccaDeMarino  She can also be found on Pinterest!
 Thank you, Hallee, for having me on your blog! It's been fun!
Find Rebecca's books online: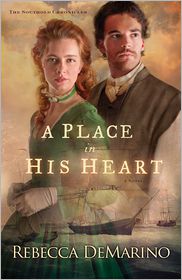 Enter to win a copy of A Place in His Heart!
a Rafflecopter giveaway

---
I'm so grateful for your visit, today.
You would bless me if you added me to your
feed reader or subscribed
via email.
You can also become a fan on
Facebook or follow me on
Twitter. I would love to see more of you!
---